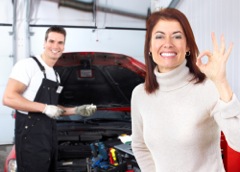 The Service Center Scholars came about 20 years ago from an elite group
of Bosch Service Centers that aspired to achieve the highest levels of professionalism in the auto service industry.
Kaizen; Japanese, meaning  "change for the better"
Toyota was the first manufacturer to completely dedicate itself to the idea that improving what you do is continuous; a journey, so to speak, not a destination.
We are dedicated to the never ending process of constant improvement in customer service, learning and applying new technologies, environmental awareness and contributing to the well-being of our communities.
We are self-managed, operating under strict guidelines for ethical business practices, technical expertise and on-going training. Our members are located all over the United States, from coast to coast.
Our members are often leaders and members in other important auto service organizations such as:
Be assured that visiting a Service Center Scholars facility will be a positive experience, knowing that we are always striving to be the "Best of the Best" for you, our customers and friends, in everything that we do!